A passion for health and safety forms the basis for a rewarding career!
Case Study: Alpesh Modi
After completing a bachelor's degree in engineering in 1998, Alpesh Modi's first role was as an Inspection Engineer. Alpesh would visit sites to check that pressure vessels and lifting tools were in good working order and complied with Gujarat factory rules. This job was a great way to gain an understanding of a wide range of industries as Alpesh got to visit power plants, steel works, oil and gas plants, shipyards, and textile factories to name a few.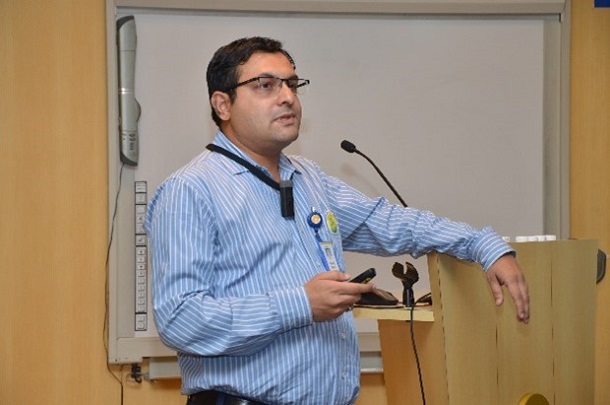 Unfortunately, during these site visits, he also witnessed far too many safety violations and unsafe practices for his liking and so Alpesh's passion for health and safety began.
In 2001 Alpesh took an Indian qualification in industrial safety which helped him secure his first Safety Officer role. During Alpesh's five-year tenure he played a pivotal role in the improvement of the company's safety arrangements.
"I really enjoyed this role because I was empowered to make changes." Alpesh explained "We developed a five-year HSE plan, introduced HSE briefings, created safety standards for contract works, implemented audio visual induction training for visitors and rolled out an employee safety survey. All of these initiatives helped improve the health and safety performance for the company which was very rewarding for me."
In 2007, Alpesh was ready for a new challenge and he secured a H&S manager role with a major Indian technology, engineering, construction, manufacturing, and financial services conglomerate.
"This was a step up in my career and I gained so much from my time there. This company had a global operation, so I was keen to supplement my country specific safety qualifications with an internationally focussed one. I spoke to colleagues, researched my options and realised that the NEBOSH International General Certificate in Occupational Health and Safety was the most suitable qualification for me." Alpesh said.
This NEBOSH success helped Alpesh secure his next position as a HSE lead with another Indian multinational conglomerate company. In this role, Alpesh had a much broader remit covering most operational and strategic aspects of health and safety. To help him excel in this new role Alpesh was keen to expand his knowledge even further and decided to enrol on the NEBOSH International Diploma in Occupational Health and Safety.
"I really enjoyed my NEBOSH studies and found that both qualifications helped me in so many ways. They gave me the international safety knowledge I craved, enhanced my ability to resolve complex safety issues and built up my confidence to make justified recommendations to senior managers." Alpesh said.
We are sure that Alpesh's career will continue to go from strength to strength, based on the winning combination of qualifications and experience he has built up during his 20-year health and safety career. We wish you continued success Alpesh in all your future endeavours.