A new challenge was just what this academic enthusiast ordered!
Case Study: Roi D. Importado
Roi D. Importado chose to study Chemical Engineering at university and after passing his bachelor's degree, he secured a place at the prestigious University of the Philippines.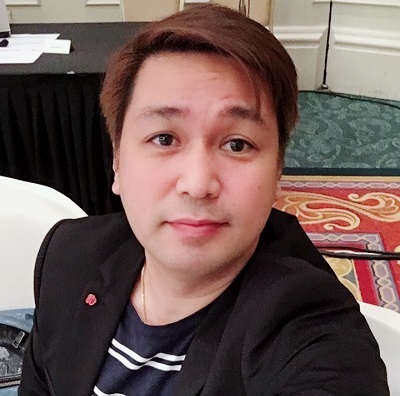 Whilst he completed his master's degree and PhD there, Roi worked as a university instructor sharing his knowledge with undergraduate students. Roi proved to be a great teacher and by 2001, he had been promoted to the position of Assistant Professor. It looked like Roi was set for a life in academia, but by 2005 he decided he was ready for a completely new challenge.
"I really wanted to work overseas and looked for opportunities in the Middle East. As part of my first degree I had done an elective module on health and safety. This, combined with my Chemical Engineering expertise helped me secure my first health and safety role with the Oilfields Supply Center Limited in Dubai, the company I still work for today 15 years later." Roi explained.
Oilfields Supply Center Limited develop and operate logistics bases to support the oil and gas industry. Throughout Roi's career the company has provided him with extensive training and support. However, it wasn't until 2017 that Roi signed up for his first health and safety qualification.
"A newly recruited HSE inspector was about to take the NEBOSH International Diploma in Occupational Health and Safety and I was persuaded to join him." explained Roi "When I signed up, I had over ten years health and safety experience but passing this qualification gave me a real confidence boost and re-ignited my passion for learning! I went on to take the NEBOSH International Diploma in Environmental Management and now have my sights set on MSc and Ph.D degrees in Health and Safety ."
As the Senior HSE Supervisor at Oilfields Supply Center Limited, Roi assists the Head of the Department with all HSE activity including planning and developing policies and procedures, conducting incident investigations, and completing site audits. More recently, in recognition of his extensive skills and experience, Roi was asked to be part of the crisis management team set up to coordinate the company's response to COVID-19. This team has developed business continuity plans and return to work policies which comply with the relevant national government guidelines.
Despite this busy job and his own studies, Roi still makes time to volunteer and has found a way to use his teaching abilities and extensive health and safety expertise to help others.
"I am a founding member and former president of the Filipino International League of Safety Advocates (FILSA) group. The non-profit organisation is based in the UAE and its members are all HSE practitioners and aspirants" explained Roi. "I regularly deliver training and presentations to the group and I really enjoy doing this. I have always found teaching so rewarding, and I love to help members enhance their health and safety skills and knowledge."
Roi, everything you have achieved academically, professionally and through your voluntary work with FILSA, makes you a real inspiration for us all. Keep up the good work!
---
How has your NEBOSH qualification helped you? Email us with your story: marketing@nebosh.org.uk.