A daughter's promise fulfilled
Case Study: Jane Elliott-Waine - University College School
There are a number of common motivational factors that drive people towards gaining vocational qualifications, such as self-improvement, knowledge acquisition, career development and passion for learning. However, sometimes there are also personal reasons that spur people on towards their achievements.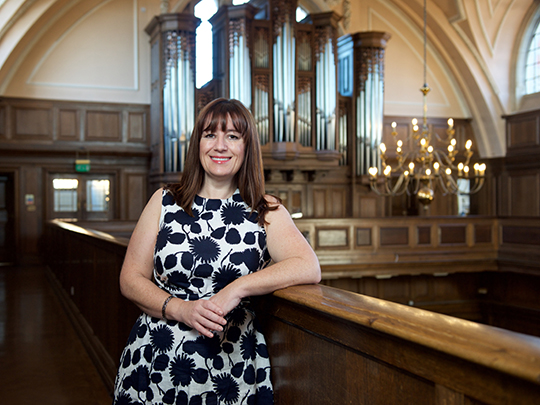 For Jane Elliott-Waine, passing her NEBOSH National Diploma in Occupational Health and Safety was not just about finding a better position or becoming better equipped as a professional. It was also about fulfilling a special promise she had made to her father.
Jane's father, Ted Elliott, was a cooper at the London docks. He was a hardworking, kindhearted man who highly valued his workplace colleagues. For him health and safety was an honourable and vitally important profession; one which rightly protects working people from unnecessary injury and ill health. So when Jane announced she was interested in changing careers from lab technician to health and safety officer, he was delighted.
The career switch effectively began for Jane back in 2001, when she was given some health and safety responsibilities and then took on a secondment with the safety manager at the college where she worked. She later ran the idea of taking the NEBOSH National General Certificate in Occupational Safety and Health past her employers, who were very supportive, and she passed with flying colours. Various roles then followed and in 2007 she made the final transition to a full-time health and safety position.
To further develop her knowledge and skills, Jane then took her NEBOSH National Certificate in Fire Safety and Risk Management, which she passed with distinction. "Because I hadn't gone on to sixth form at 16 I'd always lacked a bit of self-confidence in my academic ability to be honest. I think getting a distinction planted the seed that I might be able go on and try the NEBOSH Diploma."
Ted was fully behind the idea and taking her career onwards and upwards to a professional level was something he and Jane discussed often. Then unfortunately tragedy struck and Jane's father was diagnosed with cancer. Sadly he passed away in 2011.
"He was so very proud of the fact that I had moved into health and safety. He'd told me "I think it's time you thought about moving on with this" and I promised him I would do whatever I could to get qualified. So my mother paid for my NEBOSH Diploma distance learning programme, which I signed up for six months later. I sat on the packs for a year while working full-time, bringing up my young son and dealing with the death of my father. And then I just threw myself into it, spending the next three years studying in the evenings and at weekends; and I passed."
The 2016 NEBOSH Graduation Ceremony was both a celebratory and poignant moment for Jane and her family. Jane's mum Iris was there with her, and Jane laughs as she recalls how her mother pushed her forwards to "get on camera" for the annual NEBOSH YouTube channel recordings of the ceremony. "It was really important to me that she was there when I graduated. Because I couldn't have my dad there I really wanted my mum there. I was very lucky actually because my husband came and so did my brother. It was absolutely fantastic and mum, who is in a wheelchair, was really well cared for."
Passing the Diploma has meant a lot of things to Jane. Since then she has started a brand new job as a Health, Safety and Compliance Manager at University College School in Hampstead. It's the kind of autonomous management position she has dreamed of for many years, and it provides her with an excellent opportunity to apply what she has learned from her NEBOSH studies. "I think that the NEBOSH Diploma gives you the extra knowledge that you need to be able to give sound advice to your employer or the people you are working with to allow them to stay compliant. It gives you that in-depth knowledge."
And of course, she has fulfilled her promise to Ted, who undoubtedly would have been extremely proud of his daughter and everything she has achieved. Jane added: "As my mum always says now, the girl did well."
How has your NEBOSH qualification helped you? Email us with your story: marketing@nebosh.org.uk.