A career in health and safety offers a unique opportunity to have a positive impact on individuals and society as a whole
Case Study: Shyam Susivrithan
In our latest interview, we spoke to Shyam Susivrithan who is a Health and Safety Professional at Drydocks World / DP World. Shyam explains how his interest in health and safety began and the benefits he gained from taking NEBOSH qualifications.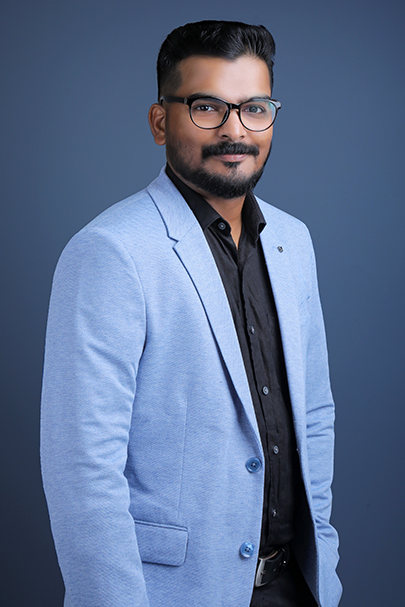 Shyam, you have worked in Health and Safety for almost 10 years. What first attracted you to the profession and how did you get your first opportunity?
After completing a Bachelor's Degree in Engineering, I attended numerous seminars showcasing different fields in my efforts to find the best career option for me. The one on health and safety showed the significant impact the profession has by protecting others. I knew this was the career path I wanted to follow and focussed on making it my reality. I secured my first opportunity as a HSE officer working for a contractor at the Kochi Refinery Limited, in India. I gained two valuable years of practical experience in this post, which significantly enhanced my understanding of HSE practices. This was followed by a short-term contract working in Qatar and that is when I observed the positive impact holding the NEBOSH International General Certificate (IGC) can have on careers.
You went on to take the NEBOSH International General Certificate in Occupational Health and Safety yourself in 2016. Can you explain your reasons why?
I took it because I saw that IGC success had built the confidence, professionalism, and enhanced the careers of colleagues. It is one of the most structured and recognised qualifications for health and safety professionals worldwide and I felt it was the best way to improve my knowledge and competence. The syllabus covers a wide range of topics and provides practical insights and applications, making it an ideal qualification for HSE professionals seeking to excel.
After successfully completing the qualification, I received several offers from organisations in Qatar where it is viewed as a benchmark of competence and expertise in the HSE field. I chose my first full-time job abroad as an HSE engineer working on the construction of the underground in Qatar.
Completing the NEBOSH IGC has undoubtedly paved the way for me to achieve significant career opportunities and progression. Its international recognition has consistently given me access to roles outside my home country. This has solidified my belief in the importance of obtaining this prestigious certification.
I understand you have worked for Drydocks World Dubai since 2020. Can you tell us a little about the company and your role there?
I consider securing my role as a HSE professional at Drydocks World-Dubai, as one of my most significant career highlights to date. Having the NEBOSH IGC played a crucial role in my selection for this position, as it gave my employers assurance of my competence and ability to handle diverse projects.
The company is a leading provider of marine and offshore services serving the shipping, oil, gas, and energy sectors. It has a remarkable track record, completing an average of over 300 projects per year and managing 42 refurbishment projects simultaneously.
As a HSE Professional within Drydocks World-Dubai, my role is to ensure the comprehensive implementation, execution, and monitoring of the organisation's health and safety procedures throughout the duration of projects from initiation to delivery. Conducting GAP analyses during the bidding process is a key aspect of my role. By identifying potential HSE risks and requirements, I help to ensure that robust safety plans are developed to safeguard the project execution.
I always prioritise protecting the safety and well-being of all personnel working on a project (including employees, contractors, and visitors) by ensuring best practice and safety protocols are adhered to. I collaborate with other stakeholders and project teams to promote a strong safety culture across the organisation. I actively support and contribute to the development and maintenance of the Occupational Health and Safety Management System, ensuring strict adherence to safety requirements and standards.
Working at Drydocks World-Dubai has provided me with the opportunity to collaborate with seasoned professionals, which has helped me continuously expand my knowledge base. It has been a rewarding and fulfilling experience, as my role directly contributes to the well-being of individuals and promotes safety excellence in the maritime and offshore sectors.
In 2022 you completed the NEBOSH International Diploma for Occupational Health and Safety Management Professionals.

a) Why did you take this qualification specifically?
I decided to pursue the NEBOSH International Diploma for Occupational Health and Safety Management Professionals because it is a prestigious and comprehensive qualification that is widely recognised and accepted worldwide. After gaining years of practical experience, I felt the time was right to further expand my knowledge and skills to enhance my professional proficiency.
The qualification is known for its extensive coverage of various HSE topics, and health and safety professionals take it to deepen their understanding and expertise.
I believed achieving the qualification would enhance my capabilities as an HSE professional, open up new opportunities for career advancement and further specialisation and solidify my credibility as a knowledgeable and competent health and safety professional. This qualification aligns with my career goals and aspirations of continuous growth and development in the HSE field.
b) Did you enjoy your studies?
I thoroughly enjoyed my studies, which provided me with a wealth of new and in-depth knowledge due to the engaging and comprehensive content that is included in the syllabus. While the journey towards completing the diploma posed certain challenges, such as balancing my job responsibilities with dedicating time for studying, I embraced the opportunity to conduct extensive research as part of my studies. Engaging in various research activities exposed me to a wealth of new information and insights, which significantly contributed to expanding my knowledge base and deepened my understanding. The knowledge I gained through my studies has strengthened my specialised knowledge which will benefit my career and contribute to my professional growth.
c) How did achieving your Diploma benefit you?
I have been using the knowledge gained from the NEBOSH International Diploma every day in my role. It is helping me to minimise the risks associated with site activities, ensuring the safety and well-being of employees and stakeholders. This achievement has further solidified my commitment to continuous learning and growth in the field, and I am grateful for the valuable insights and expertise I gained through my studies.

What's next for you in terms of your professional development?
I am committed to embracing lifelong learning in my career journey and have ambitious plans for my future. One of my immediate goals is to achieve Chartered Membership of IOSH which will be a significant milestone in my career.
As a health and safety professional, I recognise the importance of continuous professional development and actively seek opportunities to further expand my skills and stay up to date. I plan to pursue a NEBOSH / University of Hull Masters degree and intend to focus on environmental sustainability and energy conservation.
Additionally, I aspire to take on leadership roles and play a more significant part in shaping health and safety policies within organisations. By applying my expertise in strategic planning and safety management, I hope to continue to create safer work environments and promote a culture of health and safety excellence.
What do you enjoy most about being a health and safety professional?
For me the sense of fulfilment and purpose that comes from knowing that my work directly contributes to the safety and well-being of individuals is the best thing about my role. Every action and decision I make has a direct impact on protecting lives and promoting a safer work environment. The responsibility of safeguarding and caring for the health of others serves as a powerful motivator in my daily work. Being able to contribute to the greater good is truly rewarding.
Moreover, the diversity of the HSE field allows me to continually learn and grow as a professional. The ever-evolving nature of health and safety challenges requires me to stay up to date with the latest developments and best practices, which fuels my passion for continuous learning.
You have clearly had a very rewarding career so far. What achievement are you most proud of?
Among the various achievements in my career, there are two that I am particularly proud of, which hold significant importance to me. The first achievement that fills me with pride is successfully completing the NEBOSH International Diploma for Occupational Health and Safety Management Professionals. Passing with credit required significant effort and dedication so it was a great accomplishment for me.
The second achievement was attaining the Certified Safety Professional (CSP) designation from the Board of Certified Safety Professionals (BCSP). This achievement was possible due to the reciprocal agreement between NEBOSH and BCSP, allowing NEBOSH International Diploma holders to obtain the Transitional Safety Practitioner status, which streamlined the process for achieving the CSP certification. Earning the CSP designation further solidified my credentials as a qualified and competent health and safety professional.
Both achievements represent milestones in my career journey that have opened new opportunities and recognition within the health and safety industry. While I am proud of these accomplishments, I also acknowledge that my journey is ongoing, and I remain committed to continuous learning and professional growth. Each achievement serves as a stepping-stone towards even greater contributions in the field of health and safety, and I look forward to embracing new challenges and accomplishments.
What would your advice be to anyone who aspires to make health and safety their career?
My advice would be:
• pursue education and certifications that provide a strong foundation in the field, such as the NEBOSH International General Certificate.
• embrace continuous learning and stay updated with the latest industry practices and regulations.
• gain practical experience through internships or entry-level positions so you can apply your knowledge in real-world settings.
• develop excellent communication and interpersonal skills, as effective communication is crucial for promoting safety culture within organisations.
If you approach your career with a passion for protecting lives and promoting well-being, this career offers a unique opportunity to make a positive impact on individuals as well as society as a whole so enjoy it!