NEBOSH Supports SHE Excellence Awards!
Thursday, 16 November 2017
NEBOSH announces its support of the Safety and Health Excellence Awards
11th April 2018, The Vox Birmingham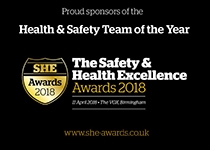 NEBOSH is pleased to add its support to the newly launched Safety and Health Excellence (SHE) Awards. These awards will celebrate innovation and achievements in the health, safety, security and fire sectors. NEBOSH will be specifically sponsoring the Health & Safety Team of the Year category.
NEBOSH Chief Executive Teresa Budworth, commented: "We are delighted to be sponsoring this award, which will recognise a health and safety team that is making a real difference. The winning team's performance and achievements will be inspirational to others in our industry. If this sounds like a team you are part of we encourage you to enter!"
"Western Business Exhibitions and SHE Awards director Tim Else added: "We are proud to partner with a brand that has the reputation and stature of NEBOSH. It is fantastic to see the industry rally around and support the SHE awards in its inaugural year. This is another example of the appetite from within the industry to reward people for the great work they do to keep us safe.
"If you are part of a team of health and safety professionals that has gone above and beyond to protect others or the environment NEBOSH encourages you to enter. It's completely free and it will only take a few minutes to submit your entry. Good luck!
To find out more about Safety and Health Excellence Awards please visit www.she-awards.co.uk.