What if your life is 'all at sea'?
Case Study: Sooraj Jacob - Maersk
The English phrase 'being all at sea' means being confused or uncertain about what to do. But for Sooraj Jacob, it has an entirely different meaning.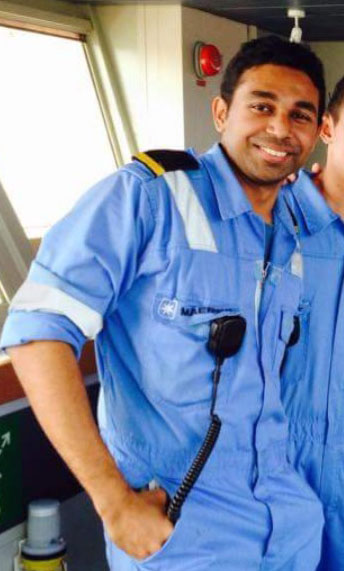 For 'Jake' as he prefers to be known, his life is literally all at sea, but NEBOSH has given him clarity about where his future may now lie.
Jake, who is from Kerala in India, is currently 2nd officer on a container vessel that continuously circles the Mediterranean Sea, picking up and delivering cargo. He works for Maersk Line, a Danish company, which is the world's largest container shipping business. When Jake left high school around ten years ago, Maersk sponsored his Marine Engineering studies and he received training as a cadet.
"I wanted to do something different, to travel, and so a life at sea really attracted me, especially as a young man eager to see more of the world," said Jake.
One aspect of his position Jake really enjoys is the safety side of things. It forms a significant part of his responsibilities as he also covers the role of HSE Officer on board. So, as well as route planning and weather surveying, Jake takes responsibility for the health, safety and wellbeing of his fellow crew members and ensures dangerous cargo is loaded, stored and managed appropriately.
Such is his interest in health and safety, he elected to take the NEBOSH International General Certificate (IGC) in 2017, paying for his studies himself. "I began to realise that my entire experience was limited to the shipping industry and so began searching online to discover more about health and safety in other industries, mainly out of personal interest" Jake told us. "The name NEBOSH kept coming up, so I did a little more research and decided I would take the qualification to help me understand what links different industries together from a safety perspective."
Jake's deep interest in the subject paid off. Not only did he pass his IGC, but he achieved the highest mark of the year, winning the Best Candidate Award. "It came as a bit of a surprise to be honest. I have a passion for training, its one of the things I do on board, so I don't know if that helped me in my studies. But I'm really proud of this achievement.
"Beyond that, it has given me great insight into not just the technical aspects, but also the whole management side of things. And perhaps most importantly, for me personally, I now see NEBOSH as a bridge in terms of my career. This qualification has opened up my options for working onshore for example."
Jake added: "As part of the IGC course I came across people from other industries, who helped me realise it doesn't matter which industry you work in, the root causes of accidents and the ways to manage and control risks are often the same. I also understand now how NEBOSH is recognised throughout the world. I feel I have found a good entry point for a career in safety now and my options are very much open."
Jake maintains a travel blog at https://jakeorpheus.wordpress.com if you'd like to learn more about his life at sea and beyond.